Our huge, 23,000 sq. ft. facility is home to state of the art training equipment. Our gym has expanded to include three separate training gyms. Multiple stations are available for all of the men's and women's Olympic Events. There is equipment especially designed for pre-school and school age children. The gyms include 2 rock walls, 5 trampolines, 15 beams, 20 bar stations, 3 Floor exercise areas, tumbling strips, 2 Olympic parallel bar sets, 10 ring sets, 4 new vault tables, overhead spotting rings, free foam training pit, birthday room, separate pre-school area and MORE…All the gyms are available for observation by the parents any time the gym is open.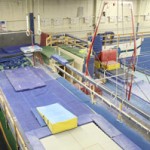 Main Gym:
Gym One houses advanced training equipment, including 'L' shaped safety pit for superior skill development. Over a hundred feet of raised platform allows for equipment unique in the capital region. The gym also holds many men's and women's training stations especially designed for advanced athletes.
Installing the New Floor
Ever wonder what's under the floor? Check out our time lapse.



Upstairs Gym:
Gym Two is specially designed for developmental gymnastics. This fully air-conditioned facility has equipment of many different sizes allowing the gymnast to learn on stations that are appropriate for skill level and physical size. The preschool area is designed solely for use by our non-school age athletes.
Boys' Gym:
Gym Three is our newest facility. Also fully air-conditioned, this gym offers equipment from a full stock of men's Olympic events to advanced training for tumbling. A specially constructed 60′ long tumbling area allows for multiple children to perform long tumbling passes safely at the same time.